Modifications to the Hermann grid
In 1941, Walter Ehrenstein left blank the intersections of the Hermann grid thus creating the classic Ehrenstein illusion [4] that is described in the Appendix to Spot 06. A dynamic, interactive blelb variation of this illusion is shown in the applet to the title page of Spot 06.
How the title illustration for Spot 29 came about
In 1994, husband and wife team Elke and Bernd Lingelbach created, in collaboration with Michael Schrauf, a blurred version of the Hermann grid with grey paths and white discs at the intersections [5] thereby optimising the scintillation effect that had been discovered in 1985. Just before Christmas 2000, an amusing e-mail with this new grid went around the world in connection with the controversy surrounding the US presidential election results in Florida. It asked recipients to count the number of black spots (votes for Al Gore) and the number of white intersections that remained (votes for George W. Bush) [6].
A stereo picture for cross-eyed viewing from blelb
(For how to go cross-eyed see Spot 11.)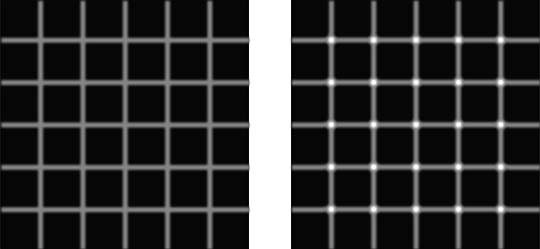 The two illustrations form the basis for a dichoptic experiment: the two eyes are presented with different images by means of squinting, which when the binocular union of the two sets of retinal information are merged to create a single image. Now the individual picture on the right shows flashing black spots. When the images have merged, the flashing can no longer be seen or occurs only rarely and in a weaker form. We therefore believe that the scintillation effect must be created before the images merge while en route to the primary visual centre V1. This effect might be correlated to saccadic eye movements, possible with the microsaccades. The Ehrenstein illusion mentioned above (see Spot 06), on the other hand, only occurs, as similar dichoptic experiments show, of the binocular union and thus clearly has its origins in the cerebral cortex.