52 Steropairs with plants, animals, humans and tiny masterpieces,
photographed and presented by Hans Knuchel, Zürich. With texts by Urs Stahel, Fotomuseum Winterthur, and Peter Brugger, Neurobiologist, University of Zürich.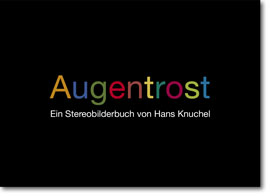 Fold up the STEREO GLASSES,
insert tab.
With the book open on a table,
centre the glasses between the two pictures.
Place nose in the triangular opening.
Look through the lens:
The images become three-dimensional!