Production and perception of the curve effect
(one of blelb's discoveries)
If you choose white, blue, red and yellow, you produce the following picture, reminiscent of Victor Vasarely: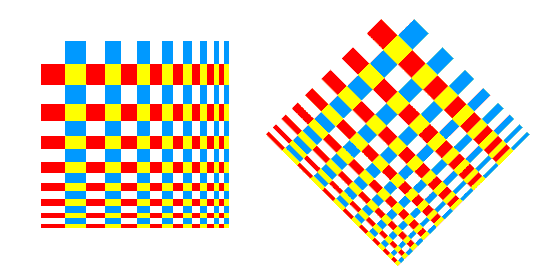 The small colour elements seem to lie on curves. This illusion is reinforced in the picture on the right. If you screw your eyes up, white and pale yellow elements merge and converge at the bottom of the picture. Illusionary curves then develop orthogonally to these. In addition, you can see 3D illusions – the picture elements appear to form a curved surface. When you move the scroll bars up and down, the converging rays on the right-hand picture seem to open and close like the petals of a flower as if a zoom were involved (a new motion illusion?).